"La cocina es un lenguaje mediante el cual se puede expresar armonía, felicidad, belleza, poesía, complejidad, magia, humor, provocación, cultura" Ferran Adrià
El chef recomienda
UN GUSTO PARA LOS SENTIDOS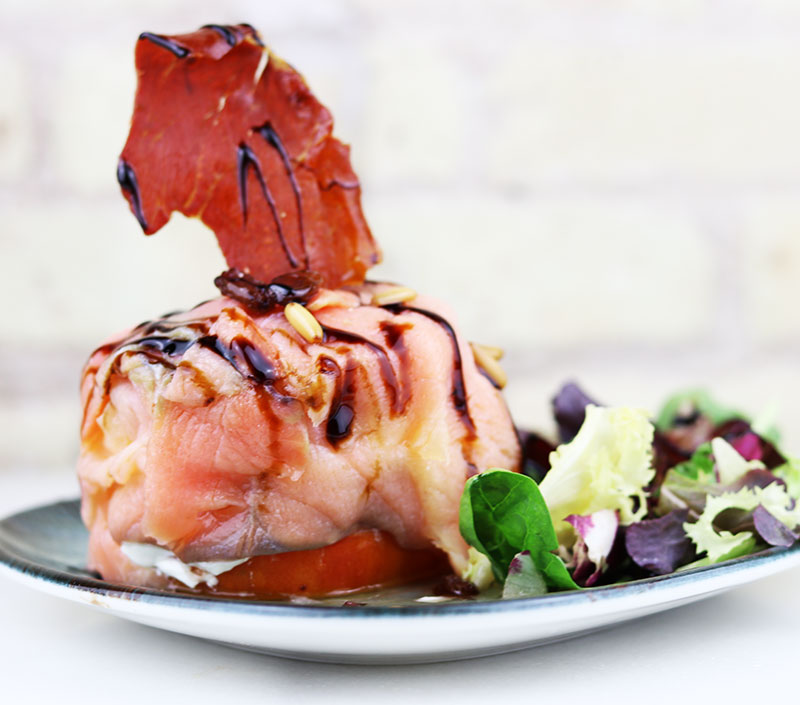 Ensaladas
NADA MÁS SALUDABLE
Ensalada de pato con vinagreta de mostaza y trufa
Lechuga, pato, queso feta, foie, mermelada, alcachofa, aceite, patata cocida y vinagre / Lettuce, duck, feta cheese, foie, jam, artichoke, oil, boiled potatoes and vinegar
Ensalada César/ Cesar Salad
Lechuga, pollo crujiente, queso, tomates cherry, anacardos, salsa y cebolla crispy / Lettuce, crispy chicken, cheese, cherry tomatoes, anacardos, sauce and crispy onion.
Tomate partío con bonito (2pax)
Chopped tomatoes with tuna
Ensalada Noruega/Norwegian salad
Tomate, salmón, crema de queso crispy de jamón, pasas, piñones y canónigos / Tomato, salmon, crispy ham cheese cream, raisins, pine nuts and canons.
Ensalada Templada/Warm salad
Lechuga, langostinos, hongos, ajos tiernos, polvo de jamón, puerro confitado, tomates cherrys / Lettuce, prawns, mushrooms, young garlics, ham powder, glazed leek and cherry tomatoes.
Real de las Termas/Royal of "Las Termas" (2pax)
Cogollos, tomate, caballa, anchoas, espárragos, bonito y queso fresco / Lettuce, tomato, mackerel, anchovies, asparagus, tuna and fresh cheese.
Tomate Cartagenero/Tomato Cartagenero (2 pax)
Tomate, boquerones, piparras, queso fresco y pimiento rojo / Tomato, anchovies, piparra, fresh cheese and red pepper.
Tomate Aladroque/Tomato Aladroque (2 pax)
Tomate partido, sardinas en salmuera, aceitunas y cebolla tierna / Chopped tomato, sardines in brine, olives and spring onion.
De rulo de cabra con bacon, frutos secos y vinagreta de miel
"Marinera" o "Marinero"
Russian salad with anchovies (unidad/portion)
Paleta de ibérico 100% bellota
Foie con culís de naranja, jamón de pato y cebolla confitada en cava
Revoltillo de bacalao con papas y cebolla dulce
Scrambled cod with potatoes and sweet onion
Revuelto de hongos de temporada con langostinos y ajos tiernos
Scramble seasonal mushrooms with prawns and young garlics
Zamburiñas con mayo-kimchie
Scallops with mayo-kimchi
Pimientos rellenos de rabo de novillo con salsa de hongos y foie
Peppers stuffed with young bull tail with mushrooms and foie sauce
Alcachofas a la plancha con aceite de trufa , jamón y parmesano (temporada)
Grilled artichokes with truffle oil, ham and parmesan cheese (seasonal product)
Patatas "Las Termas" / Potatoes "Las Termas"
Papas estrelladas con jamón
Sunny-side-up potatoes with ham
Tortilla de la abuela con pimientos de Padrón
Grandmother omelette with Padron peppers
Pulpo a la Cartagenera
Cartagenera style octopus
Croquetas de Jamón ibérico (ud)
Ham croquettes (unidad/portion)
Croquetas de Lechazo (ud)
Young lamb croquettes (unidad/portion)
Tostas
EXQUISITAS Y DIFERENTES
Tosta Veta/ Veta Toast
Alioli, tomate, secreto ibérico y pimiento / Alioli, tomato, Iberian pork fillet and pepper
Tosta Argentina
Secreto de cerdo ibérico en su jugo, mayonesa, queso y tomate confitado / Iberian pork secret in its juice, mayonnaise, cheese and tomato confit
Tosta de Salmón
Tosta de Salmón ahumado con crema de queso / Smoked salmon toast with cream cheese
Paleta ibérica
Ham toast with tomato and Parmesan shavings
Tosta de sobrasada con queso zamorano y miel
Tosta de sobrasada con queso zamorano y miel
Arroz
(POR ENCARGO, MIN. 2 PERS.) PRECIOS POR RACIÓN
Arroz meloso de pato y verduras
Honeyed rice with duck and vegetables
Arroz negro de calamar y gambas
Black rice with squid and prawns
Arroz con bogavante (por encargo)
Rice with lobster (to order)
Caldero del mar menor (por encargo)
Arroz de pluma con boletus
Arroz Señoré (todo pelado)
Pasta fresca al Parmesano
Fresh pasta with Parmesan cheese
Pasta fresca al Tartufo
Fresh pasta with Parmesan cheese
Carnes
GUARNICIÓN DE PATATAS (VERDURAS 4,50€/PERS.)
Chuletillas de lechazo (6 uds.)
Secreto al gran vino tinto
Iberian pork fillet with red wine
Presa Ibérica de bellota macerada en Teriyaki y ostras con verduritas al dente en su jugo
Pork macerated with Teriyaki with oysters and vegetables
Entrecot y chuletón de vaca vieja madurada 50-60 días (precio/Kg)
Fillet steak and ribeye of aged cow matured 50-60 days (price/Kg)
Chuletón de ternera de aliste madurada 45 días (precio/kg)
Beef  steak matured 45 days (price/kg)
Entrecot de ternera de aliste
Carrillera de Ternera glaseada
Muslos de pato confitado sobre patatas encebolladas y salsa de naranja
Pescados
Consultar pescados y mariscos del día
Bacalo gratinado con puré de patata ajado
Grilled cod with mashed potatoes
Tacos de bacalao frito con cebolla confitada, piñones y peras al vino
Postres
Disfruta de nuestros dulces